Why do some Salesforce implementations fail? One major reason is that Salesforce users are not fully engaged in the project. But how can Salesforce features assist in this regard?
Unsuccessful system implementation
What does an unsuccessful system implementation look like? If you hear end-users use terms like the ones below, it's clear that the end-user was not satisfied with the implementation:
"Some users feel that they have to work more than before."

"Users enter only a minimum of data."

"Even after 2 years, users don't feel comfortable using the system."
4 DON'Ts- Recipe for the unsatisfied Salesforce end users
Failures can often be attributed to ignored end-users. In order to ensure a successful Salesforce implementation, it's important to avoid the following four "DON'Ts": 
DON'T present a value to end users

DON'T engage end users

DON'T develop Change Management

DON'T manage resistance to changes
Additional failure considerations
Cognitive biases can also make the implementation process more difficult. Three biases that are commonly observed in system implementations are Bounded Rationality, Status Quo Bias, and the Ikea Effect. 
Bounded rationality refers to users making decisions that may not be rational but make them comfortable.

 Status quo bias refers to users not wanting to leave their current way of doing things and learn new ones. 

The Ikea effect is when users feel more attached to things they co-create.
4 DO's- The chance for success
But there is hope for a successful Salesforce implementation by following these four "DO's":
Present a value to end users

Engage end users in the implementation process

Use Salesforce User Engagement Tools

Create content that is FACE: Friendly, Accurate, Concise, and Educational



Salesforce User Engagement Tools
Salesforce offers several user engagement tools that can assist in the implementation process. These include In-App Guidance, Help Menu, and the Guidance Center. These tools can be used for onboarding and adoption, bringing attention to critical information, change management, and tracking engagement. In-App Guidance allows for prompts and walkthroughs to be added to share information, train, or onboard users. Additionally, managers can monitor user engagement with training materials by accessing dashboards and reports that are available for free on the AppExchange.
It's important to remember that the success of a Salesforce implementation depends on user engagement and involvement. By presenting value to end-users, engaging them in the implementation process, and utilizing Salesforce's user engagement tools, you can increase the chances of successful system implementation.
We can then add some images and descriptions to these tools. For docked prompts, we can add a video instead of an image. The walkthrough can include a maximum of 10 prompts and each walkthrough has a unique URL. The feature was added recently by Salesforce, and thanks to it, walkthroughs can be triggered now from anywhere.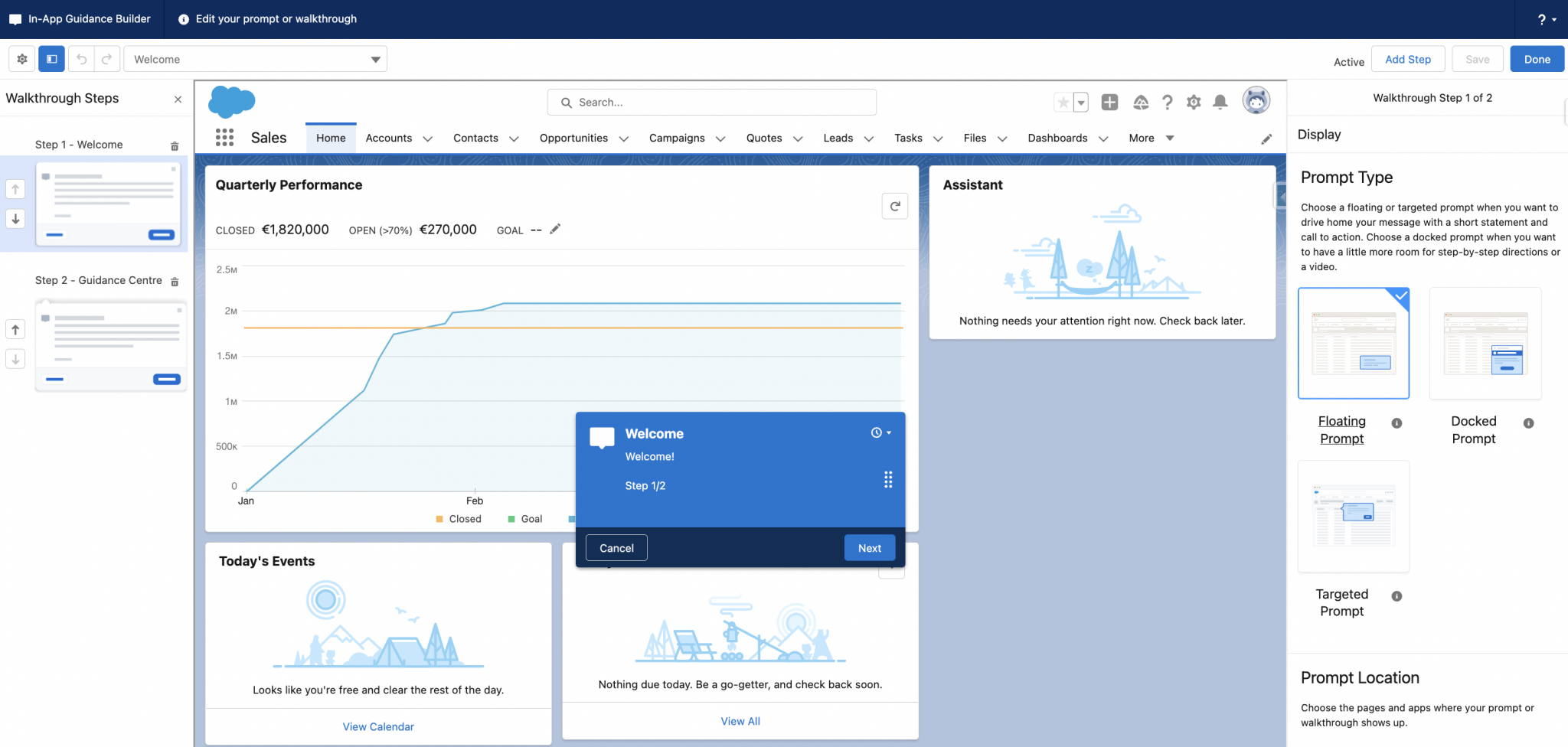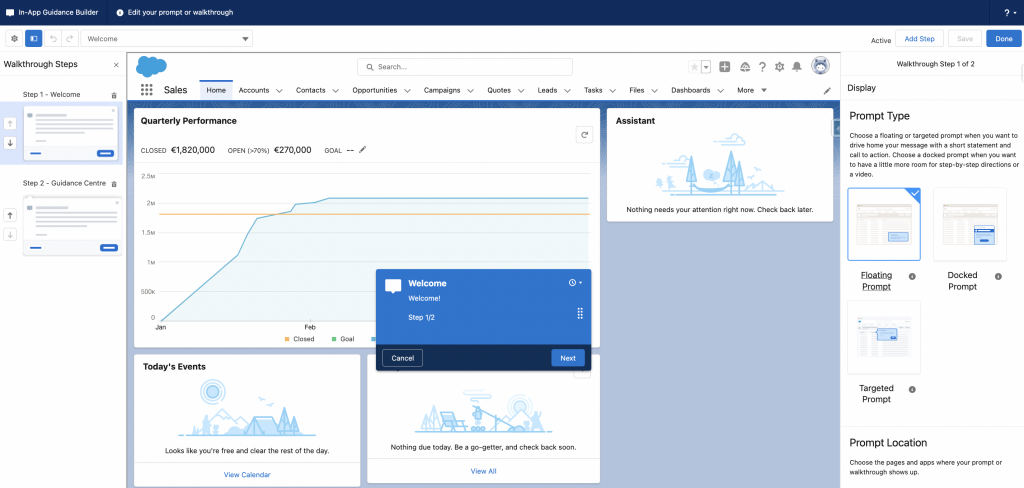 Quite powerful is the possibility to report actions connected with the walkthroughs and prompts. Managers can monitor if users follow training materials and if they are attracted to them.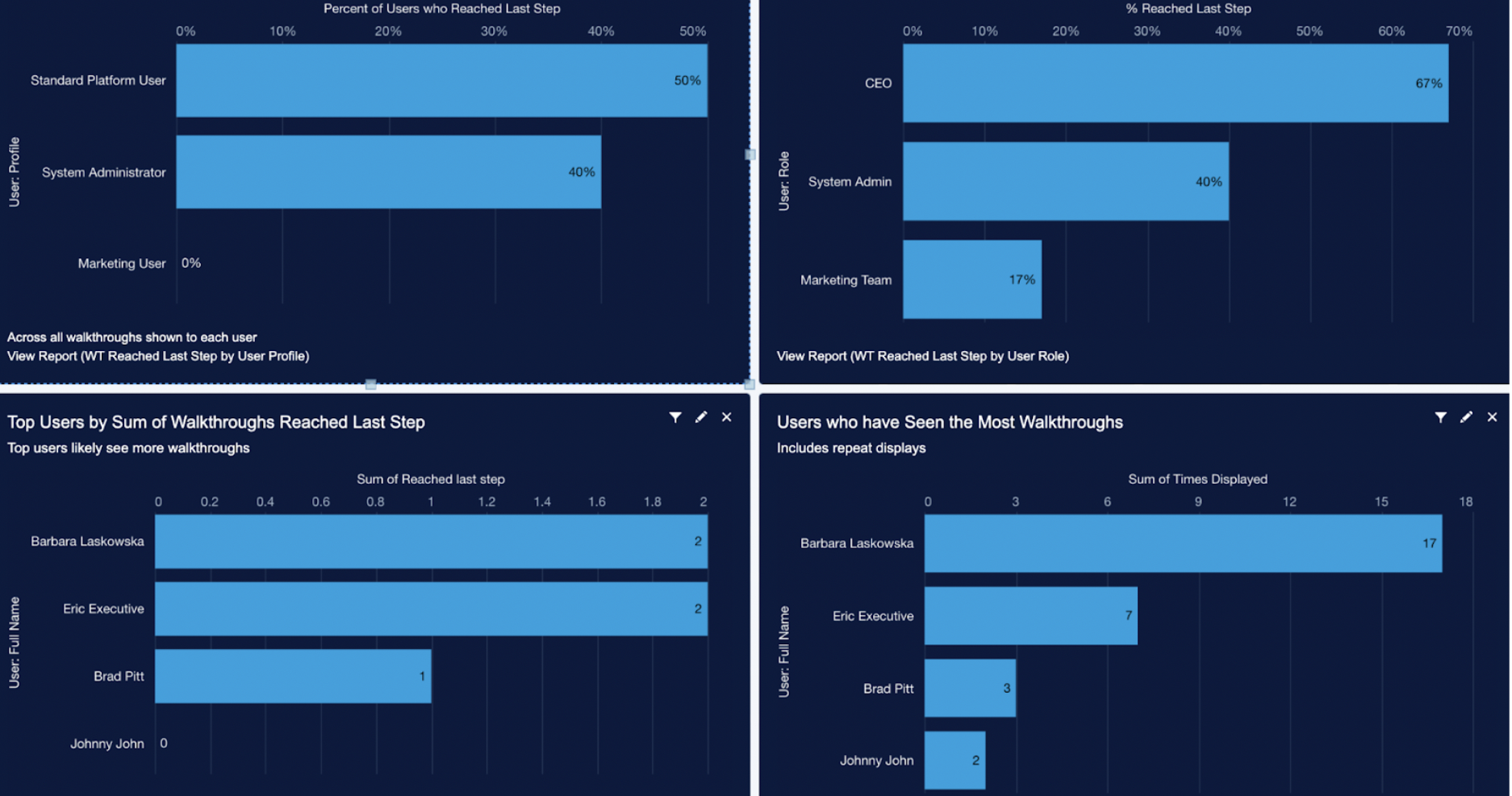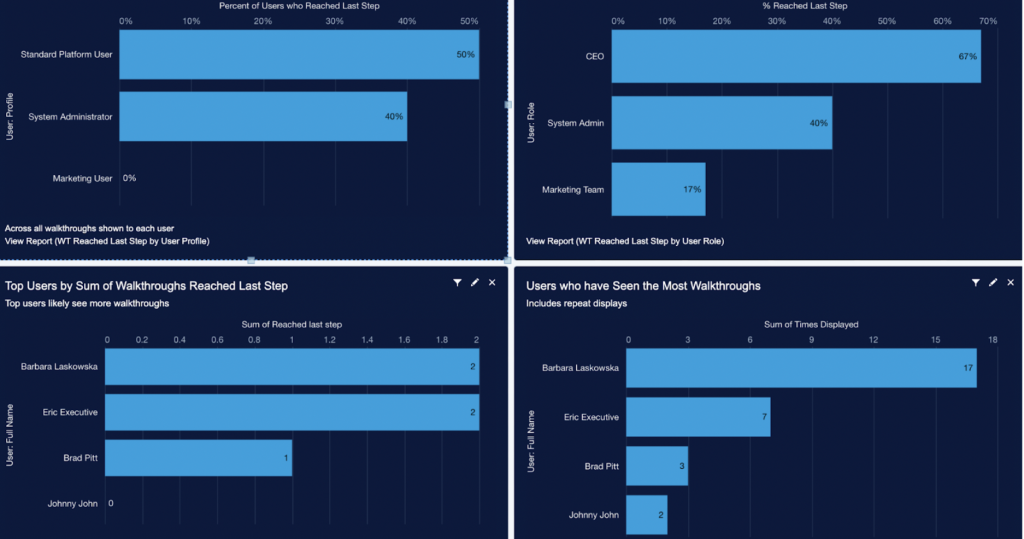 Dashboards and reports are free to download from AppExchange.
Let's keep in mind that for free we can have only 3 active walkthroughs per production org. If you need more walkthroughs subscribe to the Enablement Sites.
The Help Menu is a custom section where we can add custom resources. We can open this tool by clicking the question mark icon in the global header. Users can go to the Help Menu and trigger a walkthrough or drive where they can find some training materials prepared by the company.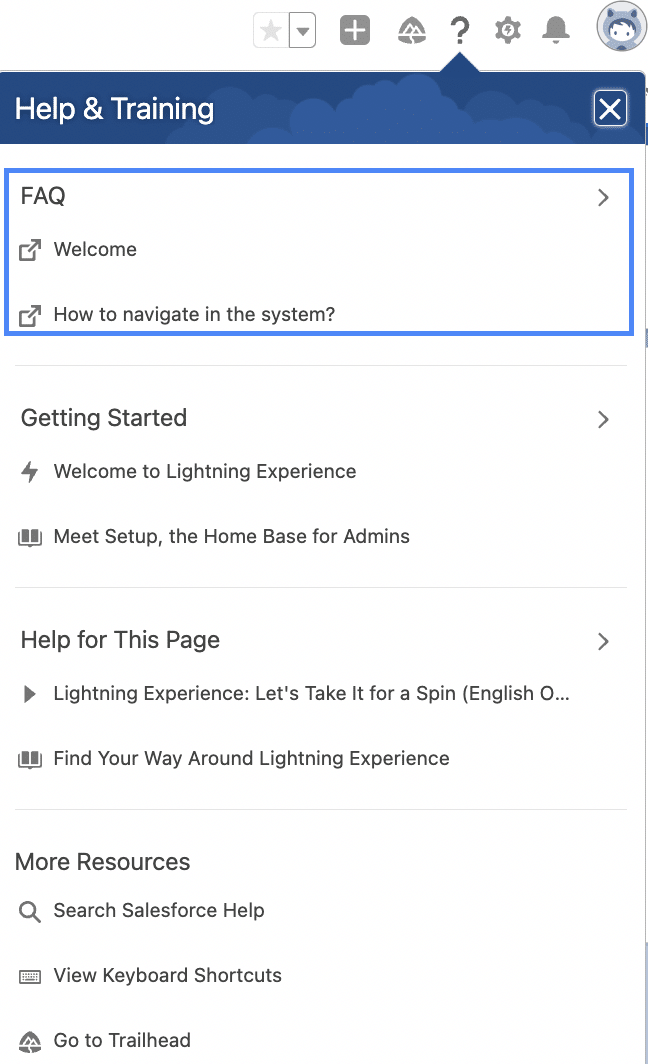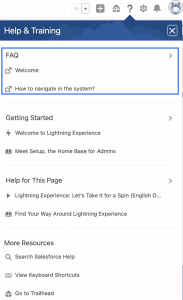 Do you want to create assignments for Salesforce users? The best with the due date and custom content? It's all possible thanks to the Guidance Centre. Anytime you can assign a Trailhead module or custom content to users or groups. Once prepared, assignments can be reused at any time so that if newcomers need help with the platform, you only assign them materials. Super easy and brings value!
Moreover, you can assign materials per object, so for example, the Trailhead module referring to Reports and Dashboard is displayed only when the user navigates to the Reports or Dashboards objects.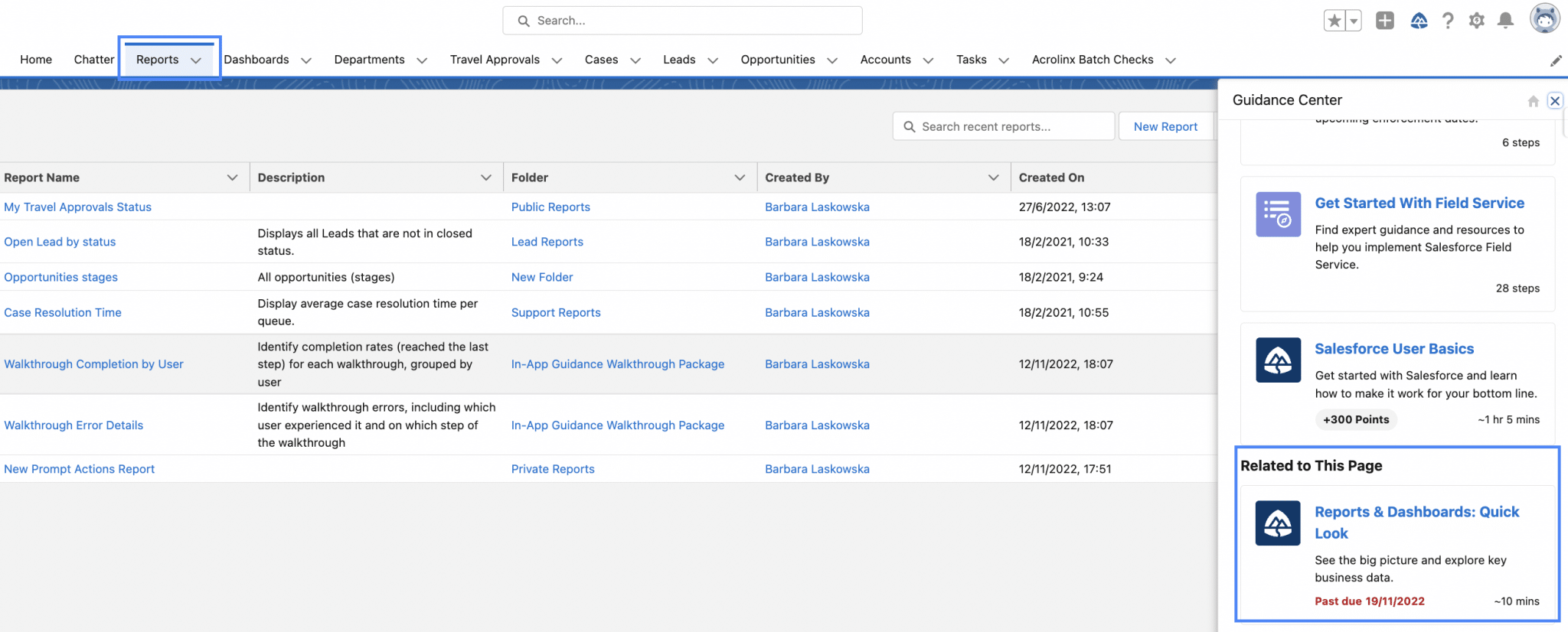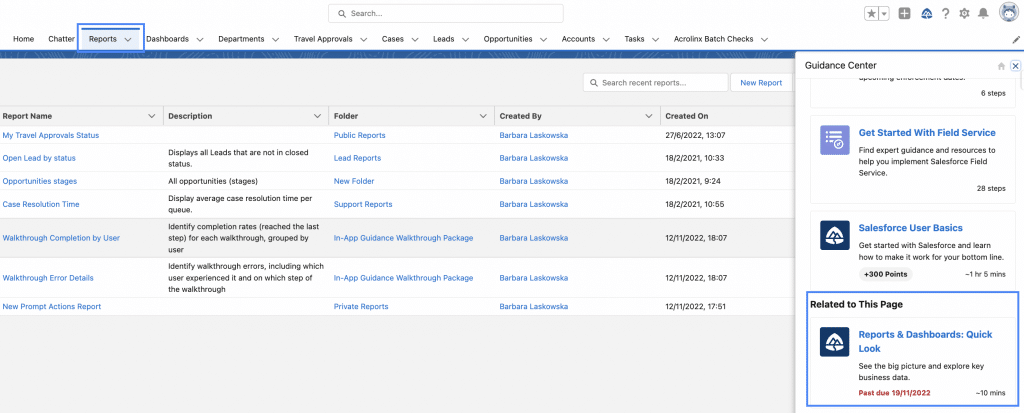 We already know how easy it is to fail in system implementation (4 DON'Ts). We also know that cognitive biases that our end users are following don't help us succeed. There is hope in the shape of 4 DOs. But do we get the answer why the User is the Key? Let's look at the simplified implementation process:


We can easily observe that in the center of each phase stands the User. The end users are everywhere, at each step of our projects. 
Do you need help with your Salesforce system implementations?
Salesforce system implementations can be successful with the right set of user engagement tools. Aquiva Labs can help you find the right approach for your project and guide you in the process. Contact us now and get connected with our team of Salesforce experts.